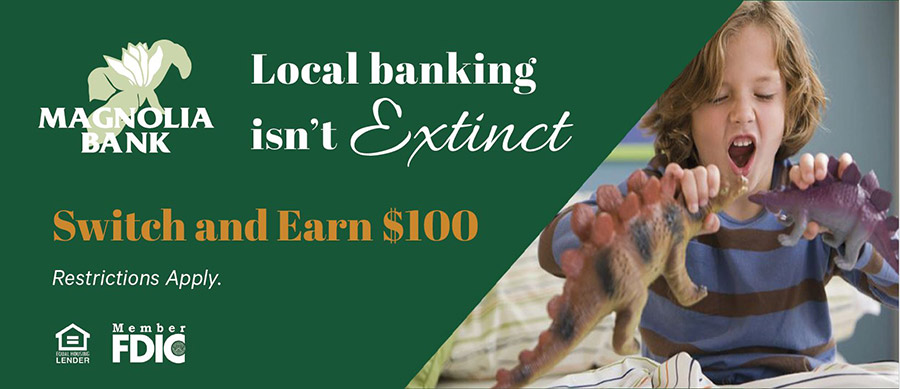 Switch to Magnolia Bank and you could earn $100! We'll walk you through every step.
Here's How to Switch:
Follow these quick and easy steps and you will soon be enjoying the benefits of banking the Magnolia Way.  
Download and print the New Customer Forms
New Customer Forms
Open A Magnolia Bank Checking Account
Visit any banking center and open your new personal checking account.\
Redirect Your Automatic Payments
We'll help you complete the Direct Deposit Form and Automatic Withdrawal Form to redirect any automatic payments you may currently have established. Or, bring in your last 3 months of bank statements and we'll complete these forms for you!
Close your Old Account
Complete the Account Closure Form and we'll send it to your previous financial institution.
For assistance, please call us or e-mail us at customerservice@magnoliabank.com. As always, we welcome the opportunity to provide in-person support.  Stop in!
Switch & Earn Terms & Conditions: To earn bonus, a minimum opening deposit of $50 must be made to a new personal (consumer) checking account. Opening deposit must be new money (cannot be transferred from another of your Magnolia Bank accounts). A recurring direct deposit must be initiated within 60 days of account opening *Direct deposit is recurring income electronically deposited into your Magnolia Bank checking account and may include salary, pension, Social Security and Supplemental Security Income (SSI) benefits and other regular monthly income. At least 10 debit card/point-of-sale (POS) signature purchases must post to the new checking account during the first month the account is opened, and at least 10 debit card/point-of-sale (POS) signature purchases must post to the new checking account during the second month the account is opened. ATM transactions are excluded. Must enroll in Magnolia Bank's online or mobile banking. For checking account options, please see checking account product information on our website or brochures available in our banking centers. The new checking account must be open and not overdrawn at the time the bonus is paid. Only one bonus will be paid per checking account. Bonus payment will be made within 120 days of meeting the requirements above and paid as a credit to the new checking account. Bonus will be reported on IRS Form 1099-INT. Fiduciary accounts are not eligible. Not valid with any other offers. Magnolia Bank employees are not eligible. Flyer must be presented at account opening. Offer available for consumer / personal checking accounts (subject to approval) opened before March 30, 2019.